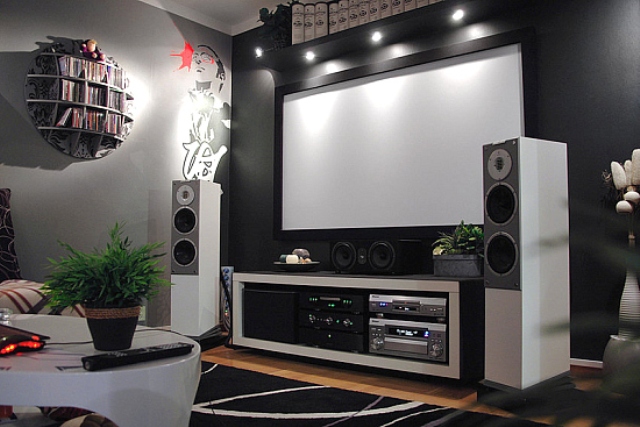 Tips for Home Theater Installation
Posted on
August 25, 2015
You can completely transform the quality of movies and music in your home by installing a home theater. It doesn't have to be expensive and it doesn't have to be difficult. There are plenty of tips you can use for installing it all on your own. It will take a few hours, some basic tools, and some patience.
What you buy will determine what has to be done for the home theater installation process. Before you commit to the purchase, find out about this part of the equation. Is it rated as easy, medium, or hard for installing? Read information online to find out what type of experience other customers have had with it.
If you find plenty of complaints about it being difficult then that can be a red flag. Consider buying a system that's simple enough so you can start enjoying it sooner than later. Think about the future of your home theater system too. It's likely you'll want to add upgrades as they hit the market. With that in mind, get a system that makes such upgrades seamless.
Make sure you pull enough wiring through where you will be installing the speakers. This is a common pitfall and you don't want to have concerns about this, trust us, that's cabling 101. It's best to have too much wire when you have the walls open and then push back in what you don't need rather than not having enough of it to work with. Measure, measure again, estimate overage, and then cut.
Don't cut corners when it comes to the cables you use for installation either. If you do, your home theater can have a cheap sound to it. Pay the extra for better cables and it will significantly enhance the value of the overall sound delivery. Make sure you have enough cable for the way you plan to lay out the system.
Consider acoustic wall treatments for your sound system to be out of this world. You may think there is something distorted and not right with the product you purchased. In reality, it has to do with the way the sounds echo in the room. This is a great touch that will make your system sound crisp and clear.
Tweak one thing at a time for the final elements of setting up your home theater system. Start with the TV and get it all set up the way you want it. Then move to the projector and do the same thing. Finally, adjust the sound and other variables with the speakers. If you try to change too much at once you will become overwhelmed.
If you are still intimidated by home theater installation, you can hire a professional to do the work for you, it's worth it! Make sure they are skilled, credible, and they give you a reasonable price for the work. They can get your home theater installed and operational before you know it! They can also show you how all the features work so you get the most out of the system.